The next Jalie pattern I tried out was 2911, a pattern for Women's pullovers, either with or without a hood.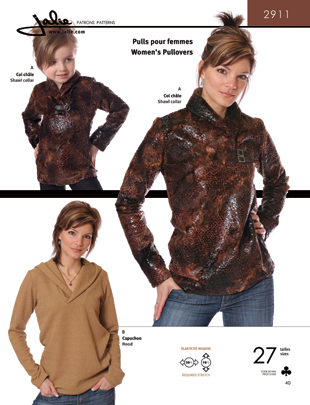 I made this up for my Mum's birthday, as she mentioned wanting a new lightweight sweater. I found a caramel coloured sweatshirting, that didn't look too heavy and gave it a try.
The instructions were again straightforward with the aid of the diagrams, and this went together easily. 
The only bit that was a bit difficult was getting the neck band in with no puckers. One of the previous reviewers on
PR
 mentioned getting better results when she sewed from the centre back down toward the front, so I gave this a try and was happy with the result.
Not too puckery?!
I am really pleased with the finished result, and my Mum likes it too. I am planning to make one for myself, perhaps in fleece for the winter.