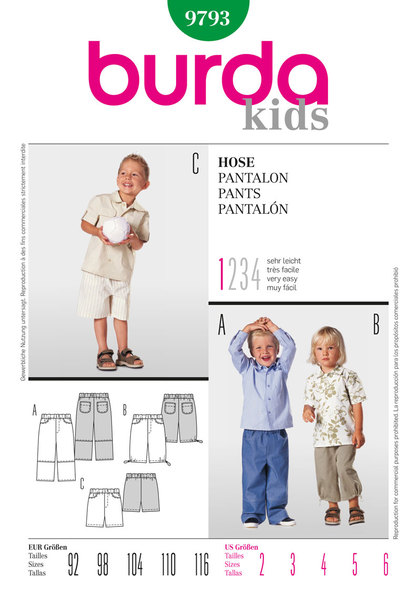 I recently made up view C of Burda 9793 – boys shorts. Twice, just for good measure.
The first ones were in a grey/blue/green skate fabric, a cotton drill which had been hiding in the bottom of my fabric bin for a while. I opted to make the pocket bags from some matching poplin to reduce bulk, which in the end was not necessary.
I
My only issue with this pattern was the instructions for the faux fly. For some reason, I just couldn't figure out what they were trying to explain, so ended up just stitching it down.
The second pair was made out of a cotton drill also, green with white stars. The exciting part of these was that I made them completely on my Singer 201, straight stitch machine!
The second pair are french seamed throughout, and then topstitched  for mock felled seams.
Perhaps a lot of work for a pair of boys rough and tumble shorts, but they look nice and they served the aim of me getting to grips with my new old sewing machine.
I will definitely be making these again (and again…) as they are quick and easy and look great, and plan to make the longer pants too when the weather starts cooling off again next autumn.