As we are coming into Summer again here, I decided it was time for some more sunhats at our place. Fortunately, I came across a hat sew along here, and decided it was just the motivation I needed.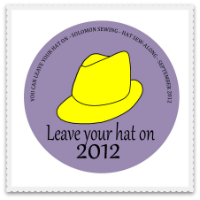 I again used the Oliver and S bucket hat pattern from the 'Little Things to Sew' book. You can find this pattern for free here.
The first one is made from left over cotton drill, from the Superhero cape made previously.
The second (and third) one is made from some leftover rip stop cotton, from a pair of pants.
All of them have plain black cotton drill as their reverse side.
A great hat pattern, that I've made previously, and will continue to use.