I recently went on a bit of an underwear making spree, after  successfully trying out the That Darn Kat undies pattern. They are fantastically cute children's underwear that use only small amounts of knit fabric, and are elastic-less. The boys style also features a functioning y-front.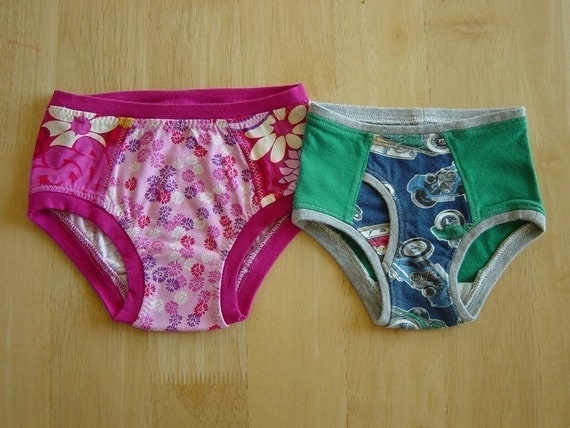 TDK Undies
These sewed up quite quickly, and the only slightly tricky bit was sewing the leg bands on the smaller sized ones, as the freearm on my machine made it a bit of a tight fit.
The only change I made to the pattern was to attach the leg bands like a binding that wrapped around the leg holes rather than the flip and top-stitch method used on the waistband. To me this made them look more like undies and less like training pants.
My son somewhat logically couldn't fathom the purpose of a y-front for his 4 year old self, so a couple of his pairs have a non functioning  front piece.
After a friend saw the first pair I made, she asked if I could make some for her son too. He had very definite colour and pattern preferences, so the finished collection had a bit of a multi-pack look to it.
I really recommend this pattern, and will definitely be making more of them with my younger son about to start toilet training.