Pattern Description: Polo shirt with standing collar, buttoned placket, shoulder tabs, back yoke and forward shoulder seam, short (A) or long (B) banded sleeve, two chest pockets with flaps and side seam slits.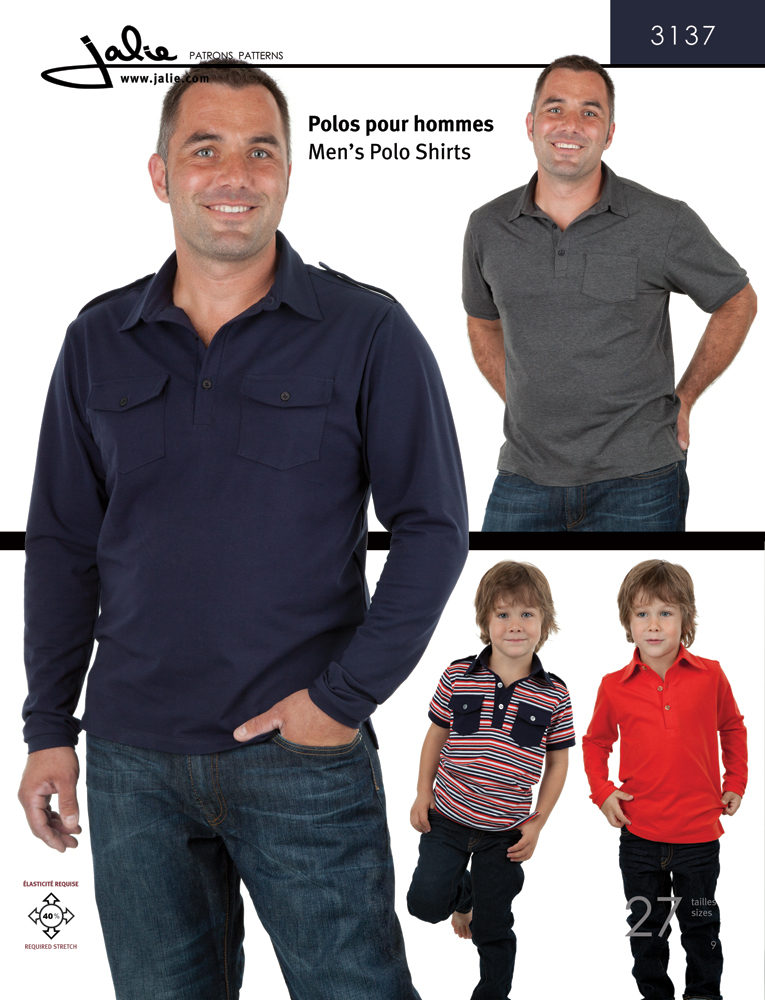 .
Pattern Sizing: Toddler 2 to Mens 50″ chest
Were the instructions easy to follow? Yes, the instructions were excellent – well written with lots of diagrams.
Fabric Used: 100% cotton rugby knit for the shirt body, and cotton ripstop/cotton drill for the collar and front placket. Snaps instead of buttons.
Hubby's jersey – still haven't managed a photo of him wearing it!
Pattern alterations or any design changes you made: 
I changed the collar to a woven fabric to make it look more like a traditional rugby jersey. This worked fine as the rugby knit used for the body does not have much stretch.
Next time, I would make a size or two up for the rugby knit, as it ended up quite slim fitting. My husband was initially a bit worried it was too slim fitting, but decided it was fine after he got some favourable comments when he wore it to work. My son would also prefer his a bit more roomy.
T more than happy to stand around for photos. (and show off matching side seams)
I would also possibly merge the back yoke and back piece into one, as it doesn't provide any shaping.
Would you sew it again? Yes, I will be making this again, as both my husband and son have requested more. I can see this pattern getting a lot of use for both polo tees and more rugby jerseys.
Conclusion: A great TNT pattern at our house full of boys!