On a  recent shopping trip where small people came too, we returned home with some Pokemon fleece.
So that it didn't lurk in stash for longer than was necessary, I decided that it should become a bathrobe. I used Jalie 2567, which I had on hand.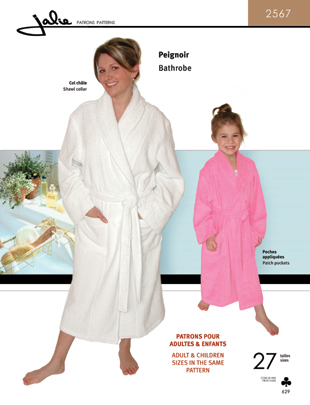 Despite D. only having just turned 4, I decided to make a size 5 so there would be plenty of room for growing (and to use as much of the fleece as possible!!)
I duly traced out the pattern and cut the fabric, but am still left with about 60cm of 150cm wide fleece! The shop must have been doing very generous cuts, as I do tend to find the Jalie fabric requirements to be very accurate.
This sewed up quickly and without fuss, as have all the Jalie pattern I have tried.
D. is very happy with his new bathrobe, and has been wearing it round the house since it was finished!