In my sew-cation I gave myself over the Christmas break, I wanted to try finding a good singlet top pattern. As this is an item of clothing I wear most days, my current RTW ones are getting a bit tatty looking.
I have a good selection of Jalie patterns, and found a couple of options that were either similar to what I had, or were a style I was interested in trying. I decided Jalie 2565 was first up.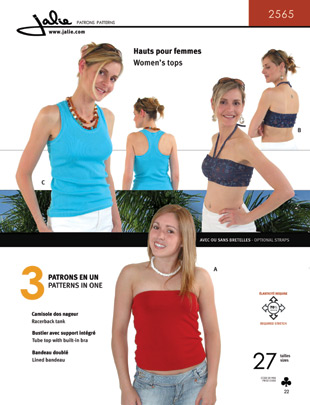 I had some merino/cotton left over from my Muse Tahi shrug, that was juuust enough to get the main pieces out of. I used some black cotton/elastane for the bands.
It went together quickly with no dramas, and fit as I wanted to. It is a good length, and fits closely without hugging every single cuddly lump and bump.
The only issue, which was a case of fabric choice rather than the pattern, was that the fabric I used for the bands had a lot more recovery than the main fabric, so tends to pull the neckline up a little higher than shown in the pattern photo.
Verdict: I do intend to make more of these, but will use the same fabric for both body and bands, so they are not fighting each other.